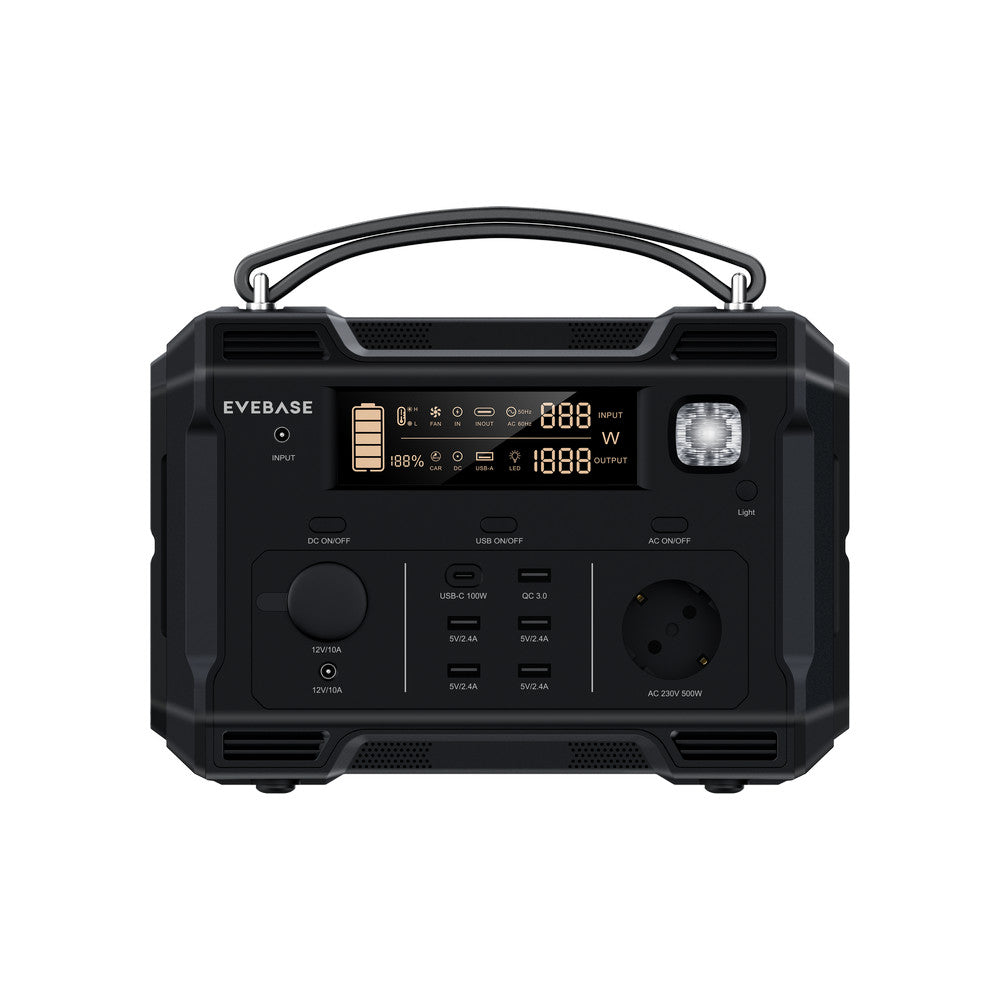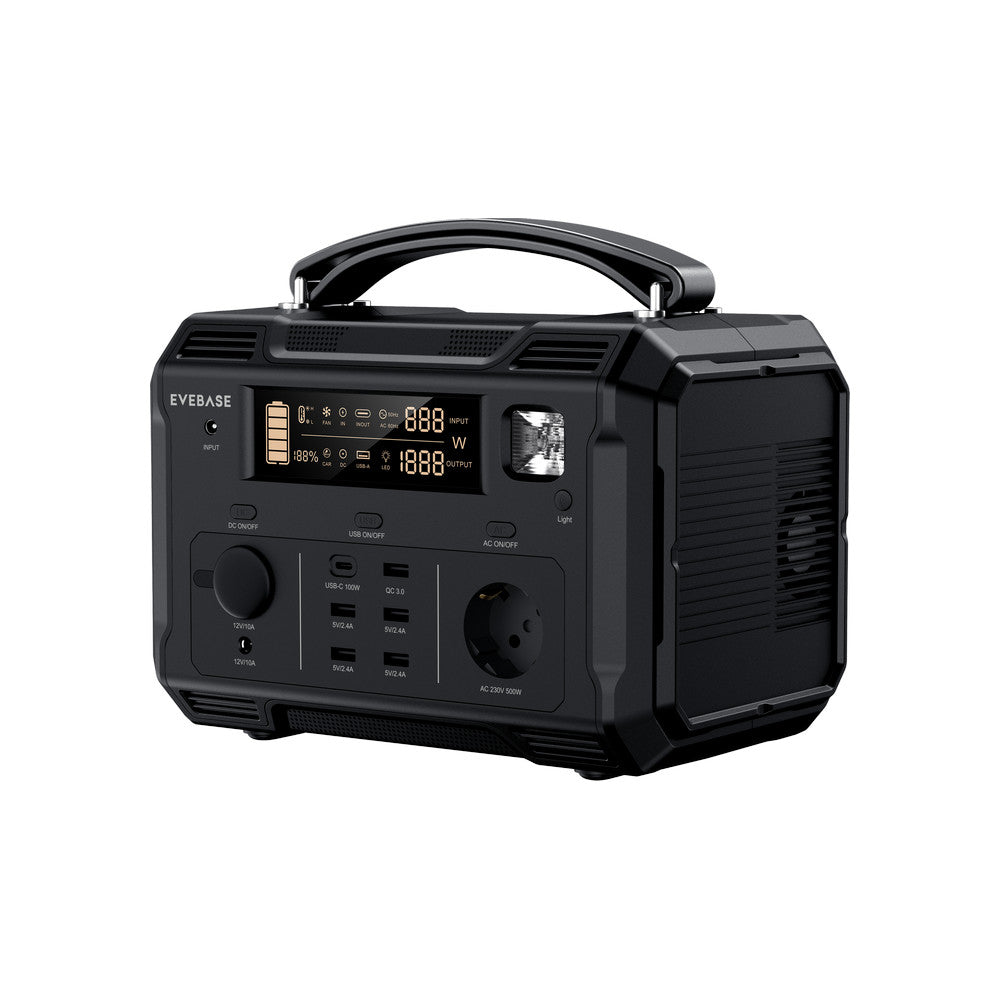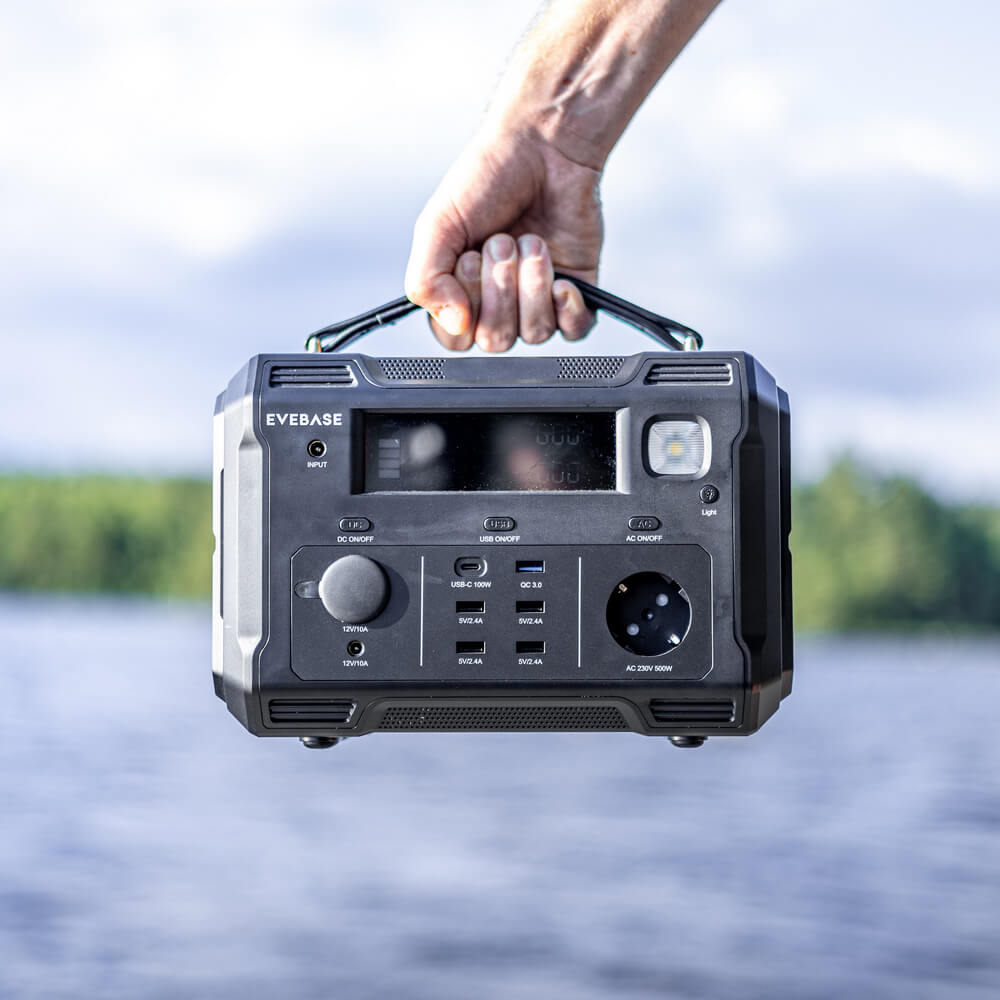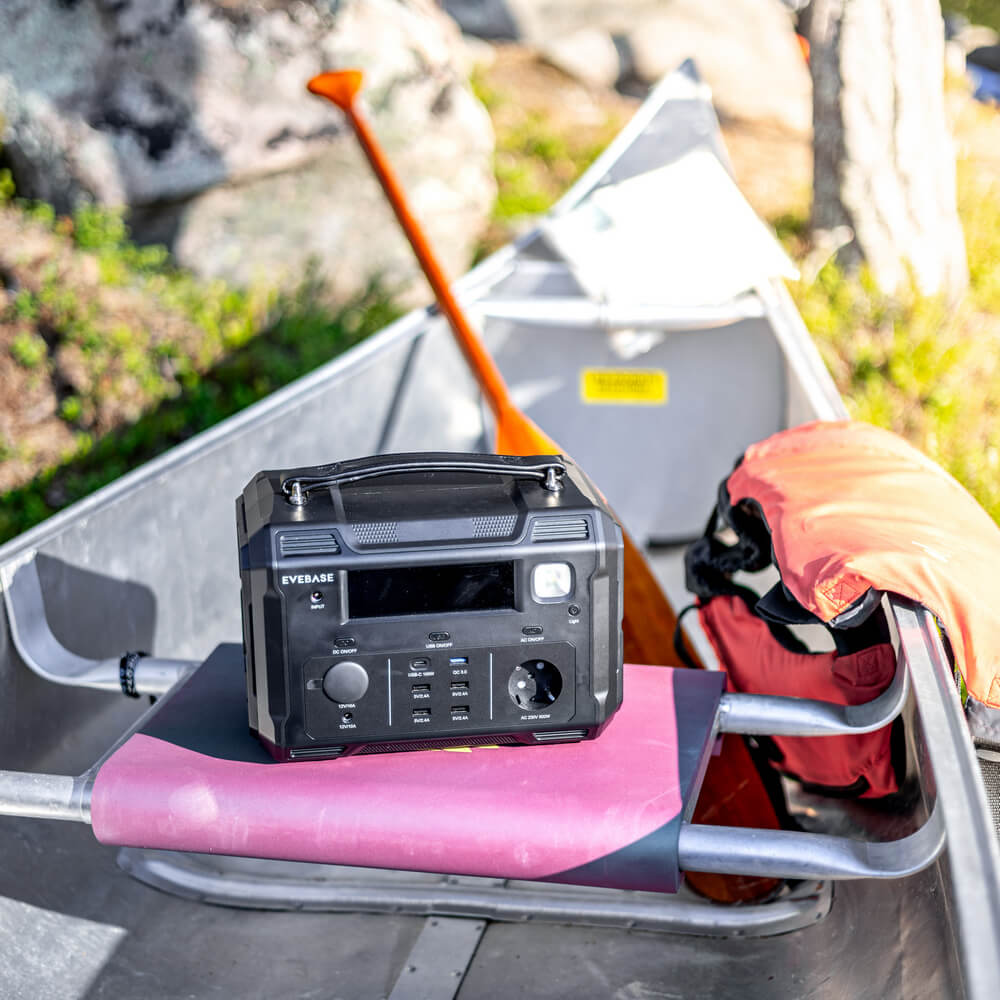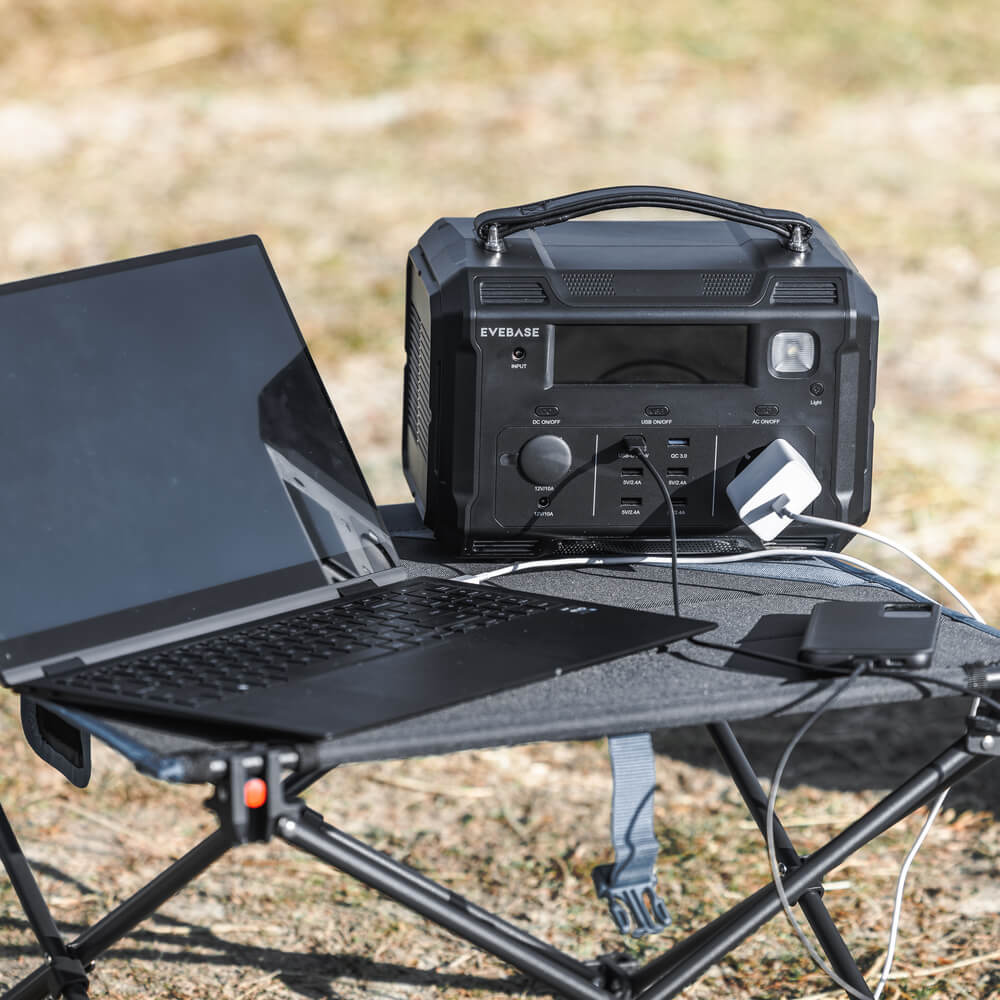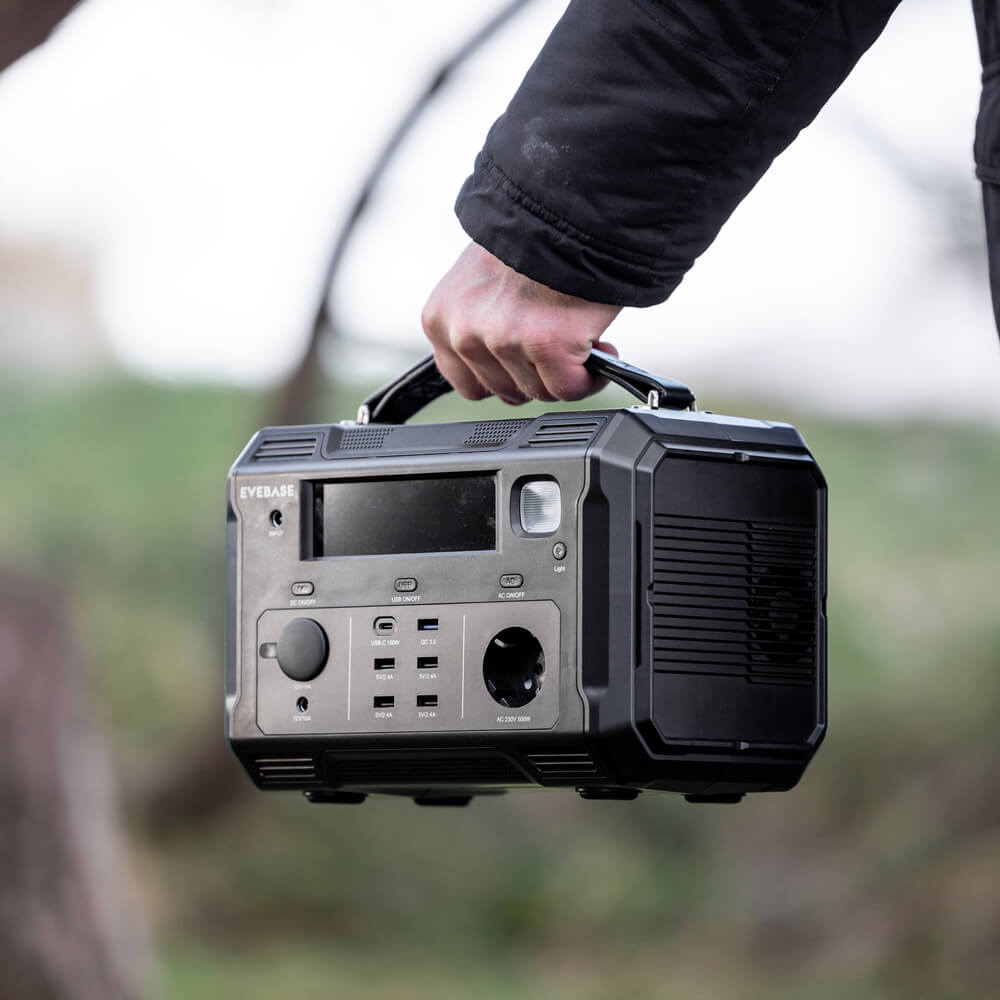 Move 500 Portable Power Station
---
Explore the world with your Move 500 portable power station. This power station is crafted with lightweight materials and designed with enough storage capacity and power to go off-grid for days. The Move 500 is a versatile portable power station and equipped with a variety of essential outlets and ports that you need during your trip.
SKU: EBPSMOVE500BL-EU
Orders are shipped for free and delivered within 1 - 3 days.
Not sure? Return your order within 14 days free of charge.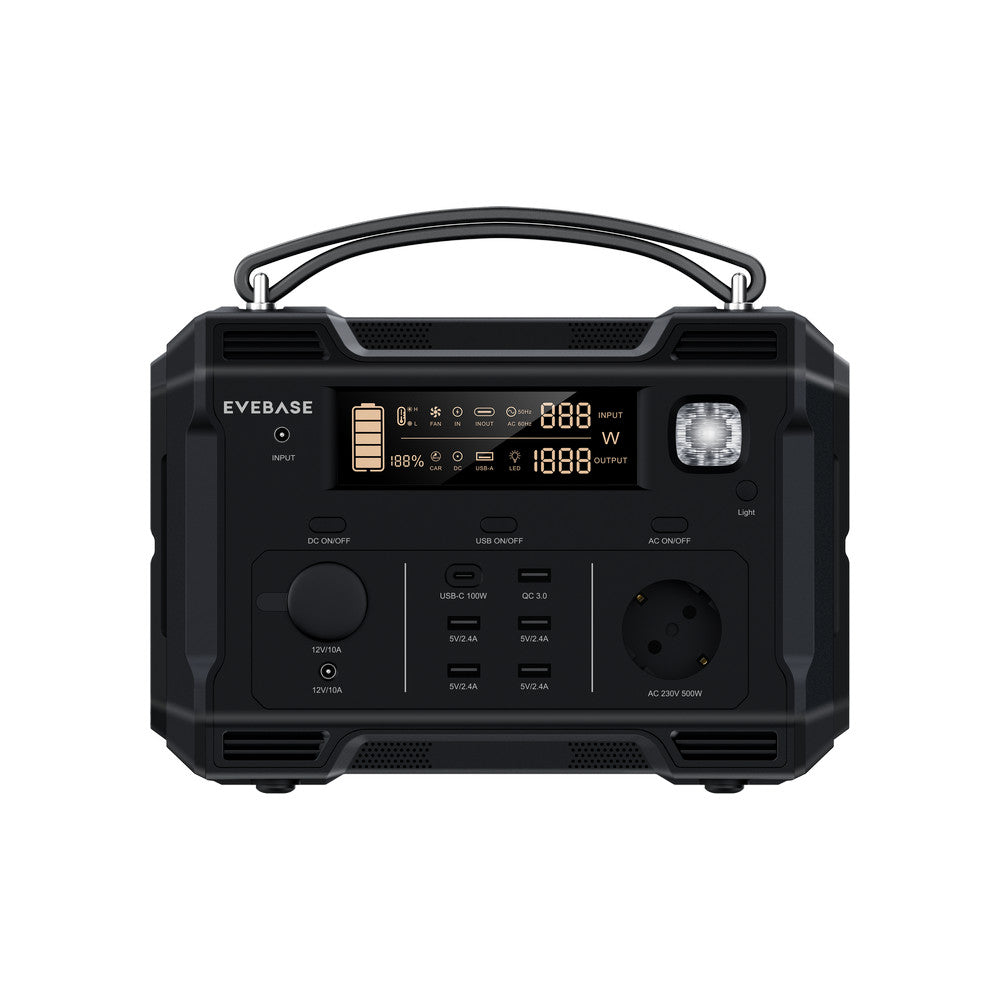 Brings the power you need
The Evebase Move 500 is perfect for everyone who likes to travel for one or more days with a car, caravan, camper, motorcycle or boat. You can enjoy complete freedom, because with this reliable and user-friendly power source you have access to power anytime, anywhere.
When space is limited
The Move 500's compact design requires hardly any storage space (26,9 x 17,8 x 20,5 cm) and being lightweight of only 5 kg, it can easily be taken anywhere.
Capacity for the weekend
The Move 500 has a storage capacity of 484Wh. This means you have enough capacity to charge your phone, tablet and/or laptop multiple times, while keeping your camping-fridge cool. The power station can also be used to connect an electric air pump or to use and/or charge other electric and battery tools (up to 500W).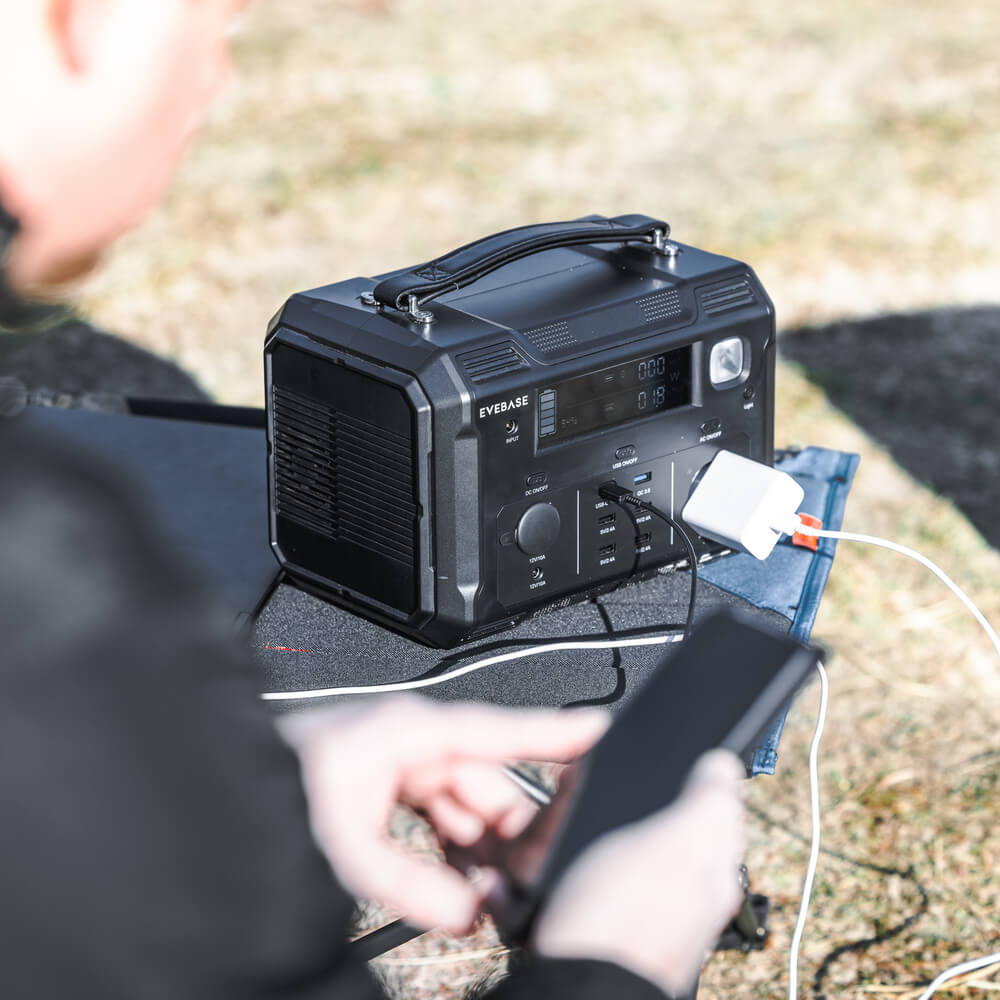 Power your journey
The Move 500 is suitable for all electrical devices up to 500W. The peak power of 1000W ensures that you can even connect heavier devices that temporarily need more power
Connect and charge your devices
The Move 500 is a power hub on which you can connect up to 9 devices at the same time. From now on you will have access to a 230V connection, multiple USB ports (four USB-A 12W, one USB-quick charge and one USB-C100W) and two 12V outlets.
Advanced battery technology
The Move 500 uses the newest and most advanced technology in the field of portable power stations. The Move 500 is equipped with a sustainable and powerful Ternary Lithium-ion battery. This battery is guaranteed to last you 1.5 times longer than your standard Li-ion batteries. This makes these power stations very suitable for intensive use.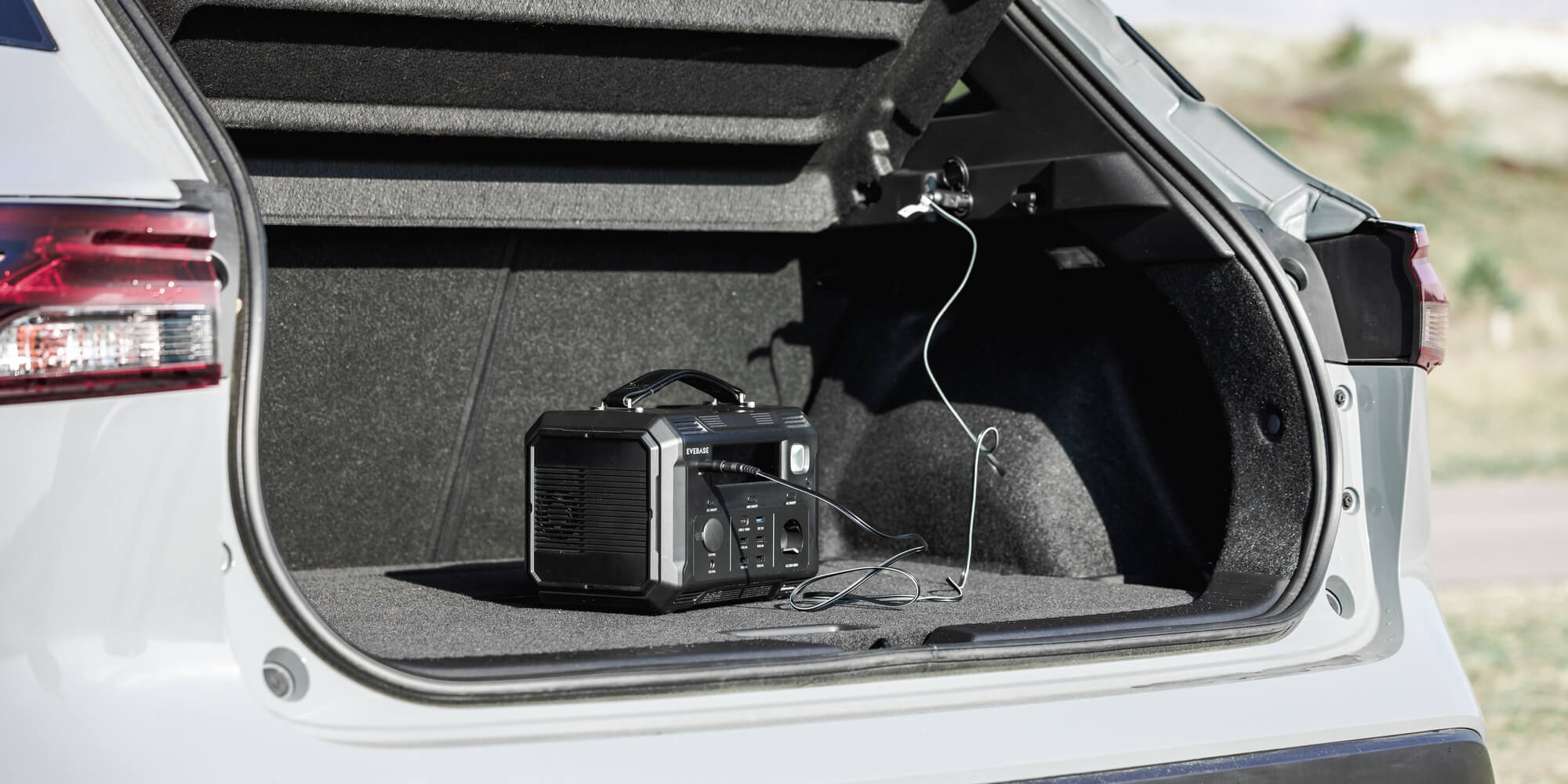 Never be without power again
The Move 500 portable power station is fully charged in approximately five hours. You can charge the powerstation using a regular wall socket, while driving your car or you can use the Evebase portable solar panels**. With these options you can charge your device everywhere without waiting too long, ensuring that you'll never be without power again.

**The Move 500 is a perfect match with the Go 120W portable solar panel from the Evebase Go series.

Get the most out of it
Thanks to our innovative BMS (battery management system) you get the most from your power station. Equipped with multiple security systems (overcurrent protection, overvoltage protection, overload protection, short circuit protection, overcharging protection, discharge protection) the BMS guarantees the quality and safety of the battery in the power station. Furthermore, this system ensures the long life of our batteries.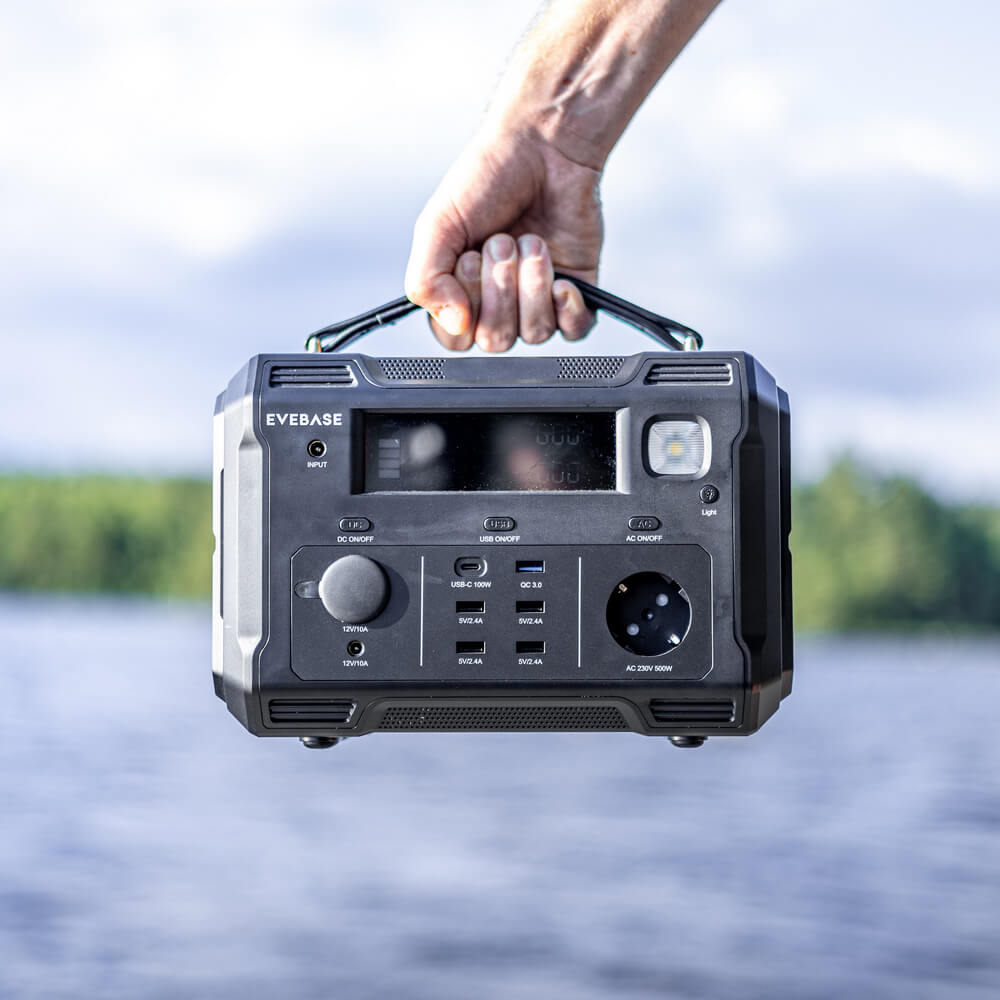 Extra large LCD-display
All the information like input- and output power, the battery percentage and reminders for charging are being displayed in real-time on the extra large LCD-display. Useful, because this means you know everything about your power station and you will never unexpectedly be without power.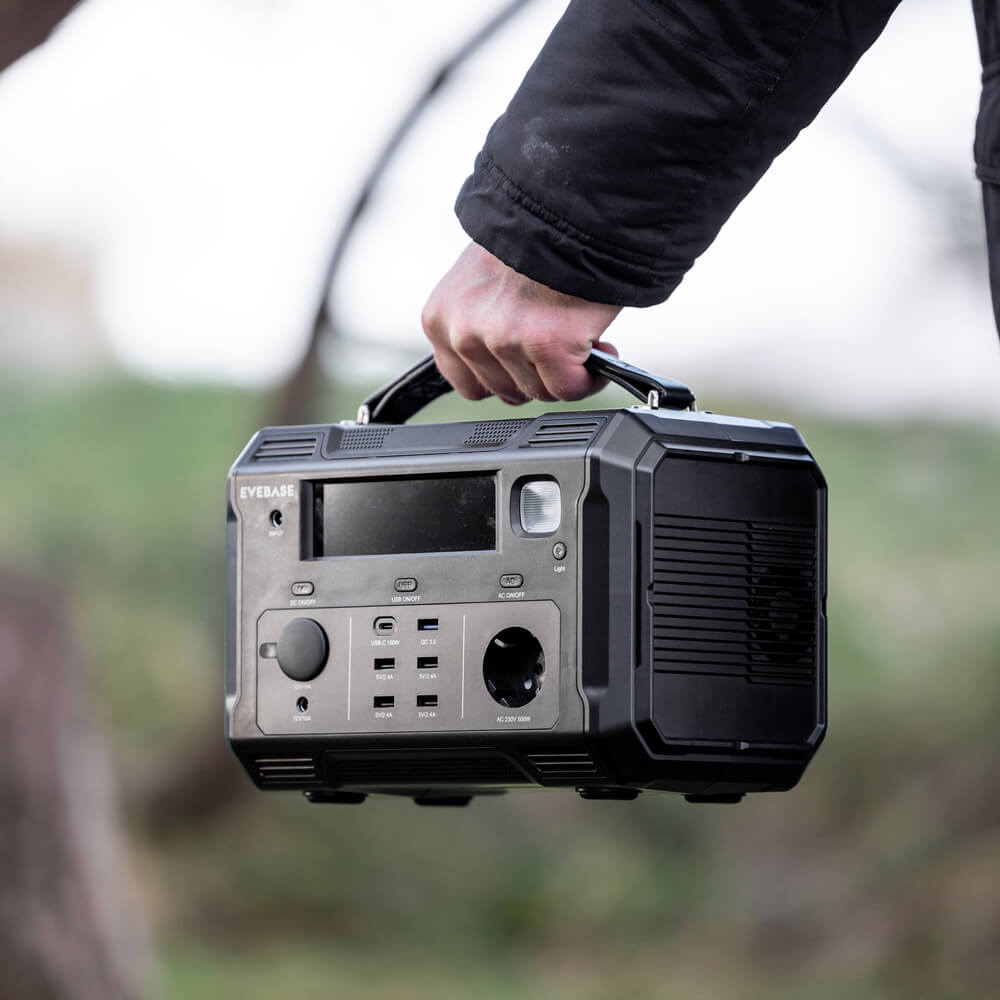 Designed to be silent
The Move 500 portable power stations is designed with optimal airflow, quiet ventilators and innovative sound-reducing materials. Enjoy just the silence, even when all your devices are connected.
Technical specifications
General
Dimensions: (l) 269 x (b) 178 x (h) 205 mm
Weight: 5 kg
Warranty: 24 months
Battery
Capacity: 484Wh
Cell chemistry: Ternary Lithium-ion
Life cycles: 800+ cycles (to 80% of original capacity)
Output
Output power: 500W
Peak power: 1000W
AC output: 1 socket (220-240V 50/60Hz)
USB-A output: 4 ports (5V/2.4A)
USB-QC 3.0 output: 1 ports (18W)
USB-C PD output: 1 port (100W)
DC output: 1 port (12V/10A)
Car charging output: 1 port (12V/10A)
Input
AC input recharging time: 5 hours (24V/5A - 120W)
DC (Solar) input recharging time: 5 hours (120W)
Car charger input recharging time: 12 hours (12V/5A - 60W)
Other features
Display type: LCD display
LED light: 3 modes (normal / SOS / flash)
Safety & Certifications
Battery Management System: Over current protection, over voltage protection, over load protection, short circuit protection, over charge protection, over discharge protection
Certifications: CE / RoHS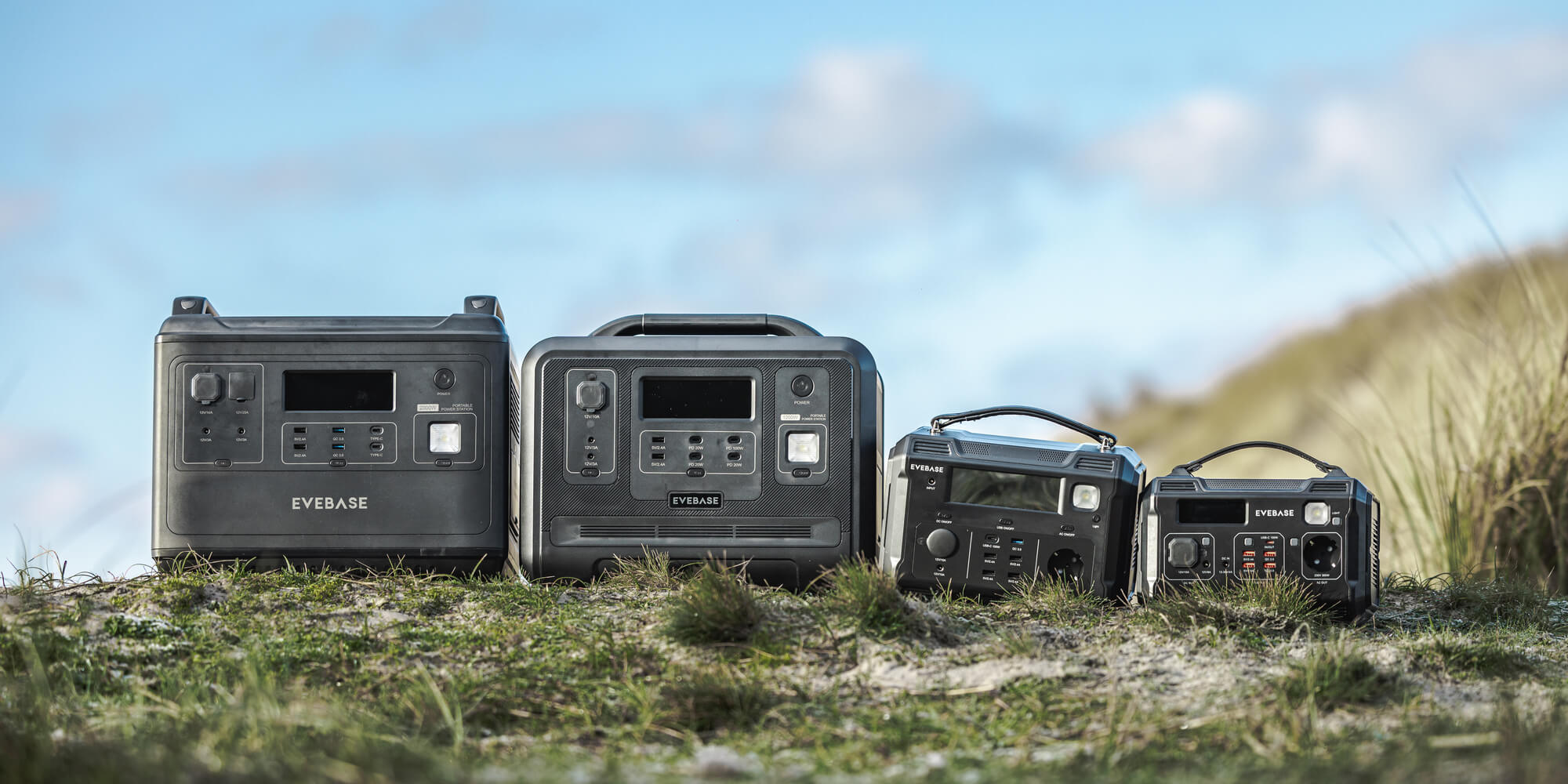 Looking for something larger or smaller?
Are you looking for a portable power station that can provide all your personal devices (up to 500W) with power and is easy to take with you? Then the Move 500 is the perfect option for you! Do you want even more power and/or capacity? Consider taking a look at our bigger power stations from the Evebase Move series: the Evebase Move 1200 or the Evebase Move 2000. Are you satisfied with less power and/or capacity? Then the Evebase Move 300 is a great option for you.